But first... I has a pretty new icon! *points*
Last night I had a strange but satisfying dream. In the dream, George and I were holding a party in our old apartment, and I was sitting with some friends in the living room, which had a fireplace that had once been real but which had been converted to contain an electric heater. In the middle of our conversation, who should show up but Micawber, our old cat who died a few years ago.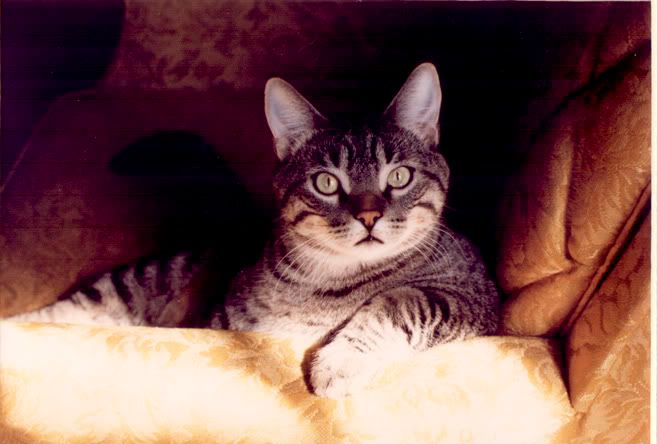 Apparently he came out of the fireplace, although I didn't see him arrive. There was a cat treat, wrapped in foil, lying on a nearby table, so I unwrapped it and offered it to him. He nommed it right up and let me pet him, looking up at me with his eyes half-closed. I knew he was dead - his fur on his back was rumpled and dry -- but he was alive enough to enjoy the cat treat and the caresses, so I counted myself lucky.
A moment later the fireplace had somehow grown to include a cavernous upper space, and down from that space came a girl, perhaps 14 years old, her pale face framed in long waves of white-gold hair, her slender body sheathed in a white robe. She picked Micawber up and started to take him into the chimney. I asked her if Micawber belonged to her now; she answered yes, and disappeared up into the darkness. (When I told George about the dream this afternoon, he remarked that she'd come to take Micawber back to Ghost Land. Perhaps he's right.)
I don't know why I dreamed about him, but I was very glad to see him. I still love him lots.
Aaaaand of course, there's dragons:
/
/
/
/
/
/
My scroll with all the dragons you've helped to grow up big and strong.
Thanks for giving them tickles, pokes, and clicks.
Back to work.